Next Level Restaurant Branding Featuring Nice Branding Agency
Posted on

Wed, Dec 16 2015 10:26 am

by MenuShoppe.com

What gets people into your restaurant? While you would like to think it is your food, good food alone is not enough to build a strong customer base. A solid brand and marketing plan is the key to ensuring that people are interested in your food, your restaurant, and what you're all about. It all starts with building a brand.
Your restaurant's brand is critical for attracting new customers and engaging with loyal fans. Yet branding is not easy. Creating a unique and appealing brand, especially in the food industry, is one of the hardest parts about running a restaurant business. Fortunately, help is available. Nice Branding Agency is a branding firm that offers services specifically designed to help restaurants build a brand and customer experience that people are attracted to and continually return to.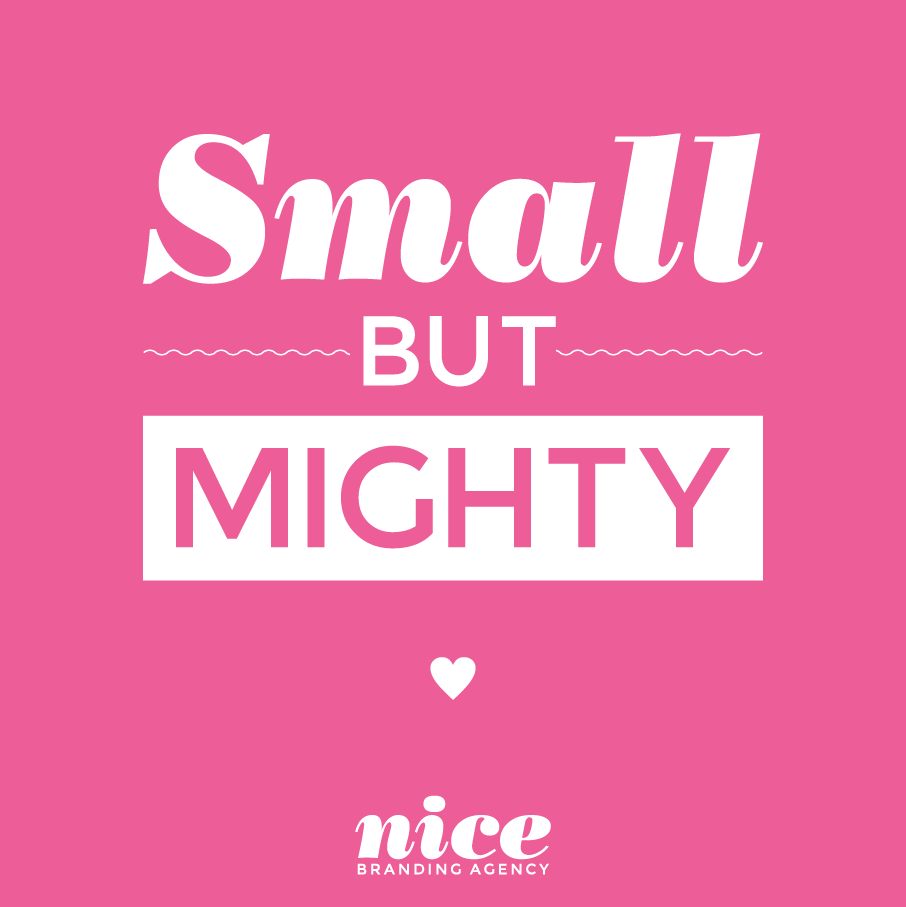 About Nice Branding Agency
Just shy of their 10th year in business, Nice Branding Agency has worked with numerous industries providing branding, graphic design, marketing, and web design services, but has definitely began to carve a niche in the world of restaurant branding and environmental design.
From the very beginning, the Nice Branding team has taken an active approach with clients. Amy Dennis, owner and creative director, said:
"We're a hands on company. We partner with our clients, rather than working for them. Their business becomes our business, and at some point, the minutes stop being clocked and passion takes over. Our firm is small, yet mighty. There's no middle man who is not a creative, muddling the details of concepts as they are presented to clients. All of our designers know and work with our clients directly, which provides an interesting approach to agency workflow, but one we've seen great results from. When working on restaurant brands specifically, we start with the image and personality, and don't stop until we've worked it through every customer touchpoint during the restaurant experience."
Over time, the Nice Branding Agency realized they had a passion for working with restaurants. According to Dennis:
"If we had to pigeonhole ourselves into one industry, we would be thrilled for it to be the restaurant industry."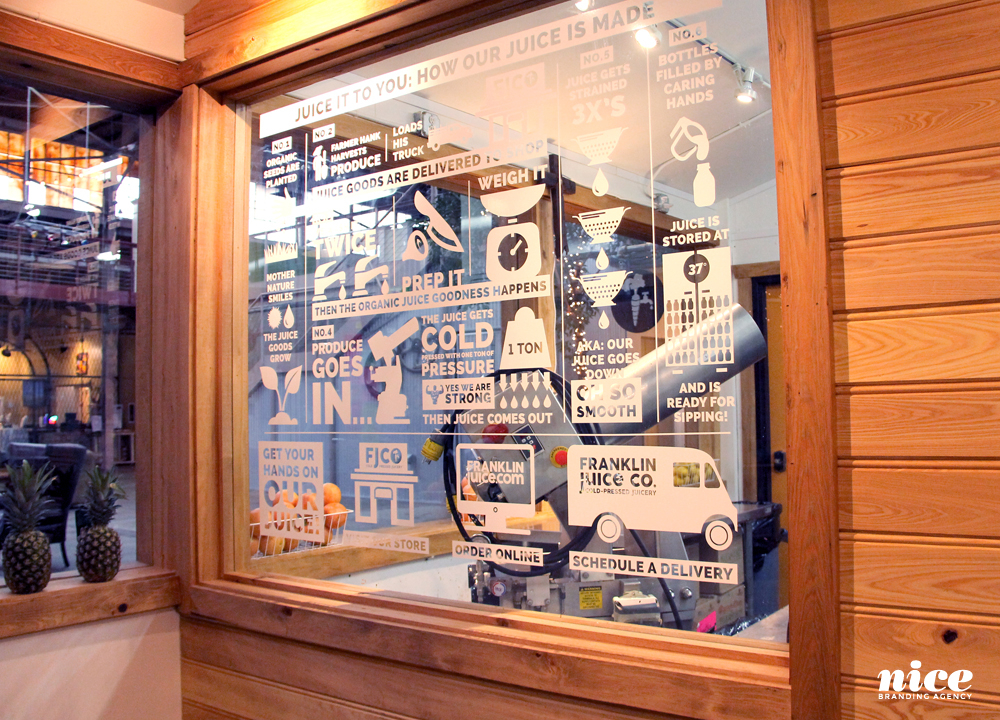 Nice Branding Agency's Approach To Restaurant Branding
The Nice Branding team works to turn ideas from restaurant owners into a cohesive brand, with supporting design, that extends to every aspect of the customer experience. They advise you on the details, providing ideas and concepts when carried out, come together to create an atmosphere that lends itself to an unforgettable experience. Your brand will be seen and felt from the moment the website is visited and the guest pulls into the parking lot. It will stay with them as they walk through the front door and be on display throughout the restaurant. From the seats they sit in, the menus they order from, to the utensils they eat with, there is no detail too small to make unique to your restaurant. This is all done with one goal in mind, to create something entirely exclusive, that no one has seen or experienced before that connects with your customers and they leave talking about.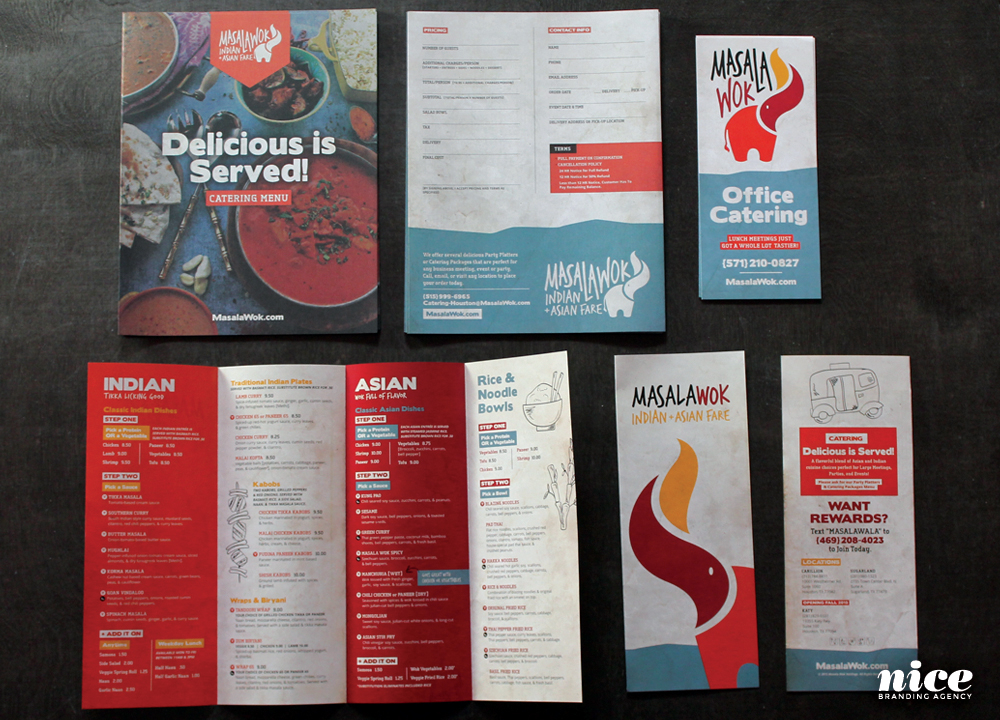 Brand personality is kind of a big deal in the Nice Branding Agency approach. Dennis comments:
"Every single piece of the puzzle is considered. There's no detail too small. From the colors of the walls, to the material of the seats, to the design and paper stock of the menu, we think through it all. We believe it can only be a successful project through first, building a brand personality and then infusing that personality in every customer touch point."
Dennis has built a unique branding agency that takes a more creative approach to the process:
"We are not set up like a normal agency. We work with clients that want to win with us and ultimately like our unique approach and graphic style. If you don't want to work to the owner of the business and a designer working on your project, this agency is not for you. Furthermore, if you're not willing to take risk and push the limit, we won't get along. We don't have account executives and we challenge our clients. Frankly, we've seen great successes when our clients follow our lead, and complete disasters when they don't."
Successful Restaurant Branding Case Studies
Nice Branding Agency has worked with a number of restaurants to creatively craft brands that are successful. One, in particular, show the firm's unique and creative approach to restaurant branding: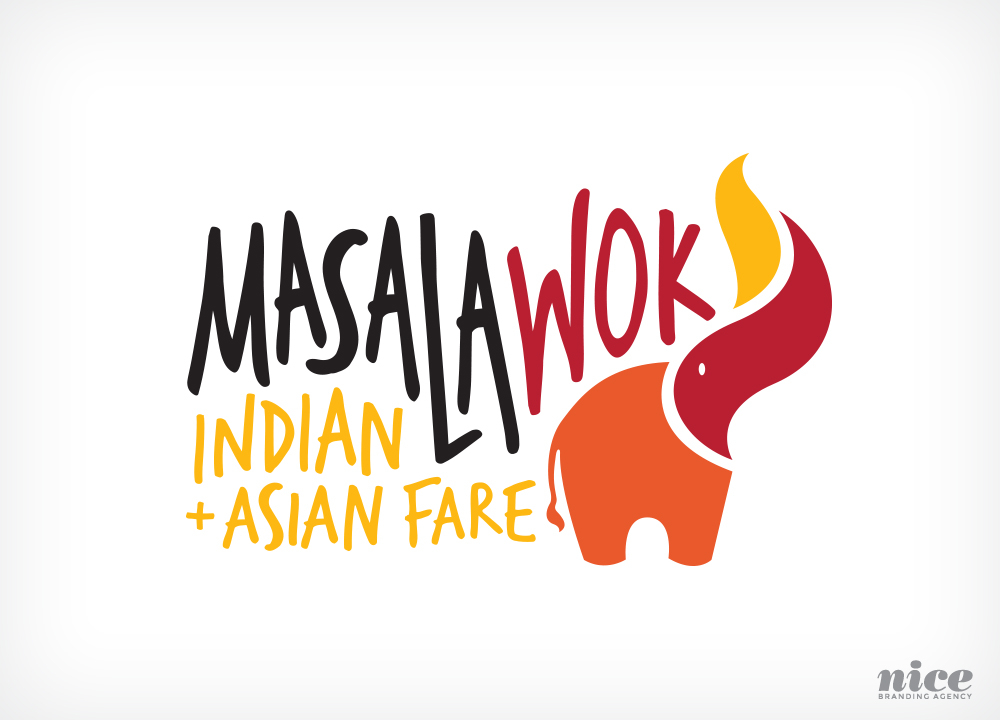 Masala Wok
Masala Wok is a restaurant franchise group with multiple locations throughout Texas and Virginia that offers an Indian/Asian menu. Unfortunately, the typical American is hesitant to try this type of food, especially Indian, due to its spiciness and foreign flavors, so the team had a unique challenge when Masala Wok contracted them.
"How do we change the perception of Indian food in America? People are so afraid to try it."
The answer was to position the cuisine and the dining experience in a new and appealing way.
By bringing in a branding team, paired with an architect, the group was able to recreate the restaurant's image completely. To begin, the restaurant was interrogated until Nice Branding felt they knew everything there was to know about why the restaurant existed and what it was that people would ultimately be attracted to. Next, multiple images were presented that would serve as the blueprint or roadmap for the entire branding and interior process. After that, necessary items such as a logo, signage, menus, and a website were developed. In unison with the branding and design projects, Nice worked hand and hand with the architect and client to lead the way through all the interior selections, as well as the overall decor. Wall to wall, everything was considered, adjusted, and rebuilt to be vibrant, inviting, and fun.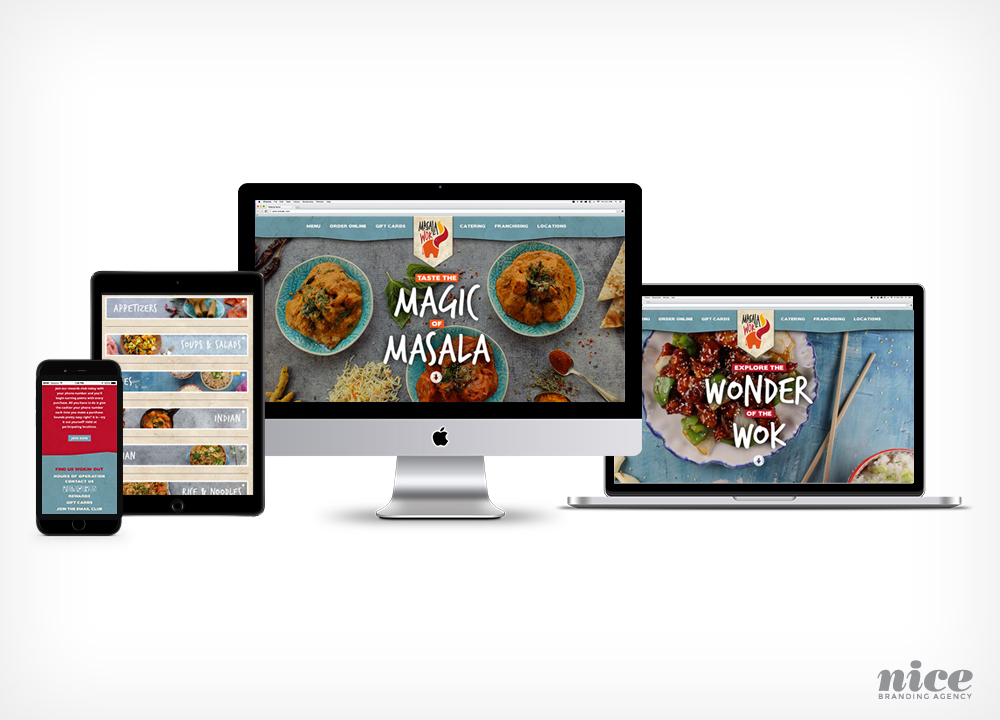 Catchy fun phrases like "Wok on In" and "Curry Back Now" connected with customers. The menu was reworked to be more understandable to those who would not recognize the dish names. Graphics of wall panels were hung to pay homage to the culture's represented but also connect with the customer target in the area.
Additionally, Nice Branding reshot all of the food on the menu. As they photographed each dish, they worked to showcase the flavor and ingredients and how the food was served. Not only did they specifically photograph each dish, but they took creative shots that were displayed throughout the restaurant and on the pages of the website so people could begin to see with their own eyes that flavor doesn't have to be scary, but actually looks appetizing.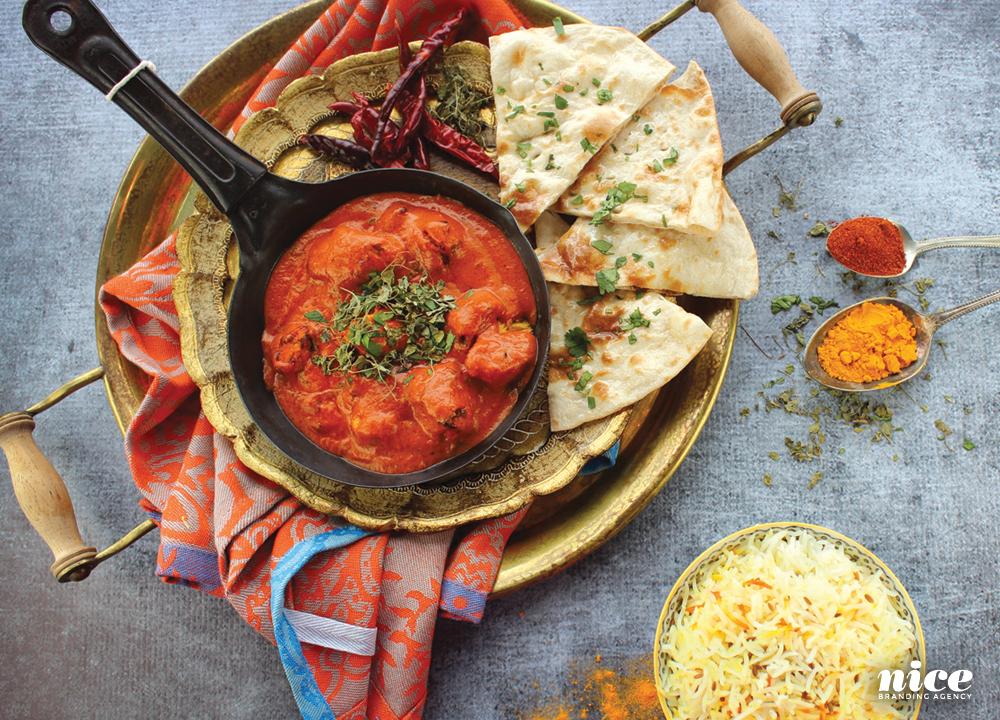 Dennis notes:
"We're not trying to change the culture. We're trying to make it fun."
Masala Wok recently opened their first location with the newly created restaurant brand and interior design in Katy, Texas. Owner, Pramod Prodduturi said,
"The response to this opening was better than any of our 10 other locations. We had more mainstream interest than we've ever had before. The store looks fantastic."
Goal accomplished? We think so.
Nice Branding Agency continues to work with the restaurant group to revamp the existing stores, continually service the overall marketing objectives, and is currently working to brand a new concept opening in the first quarter of 2016.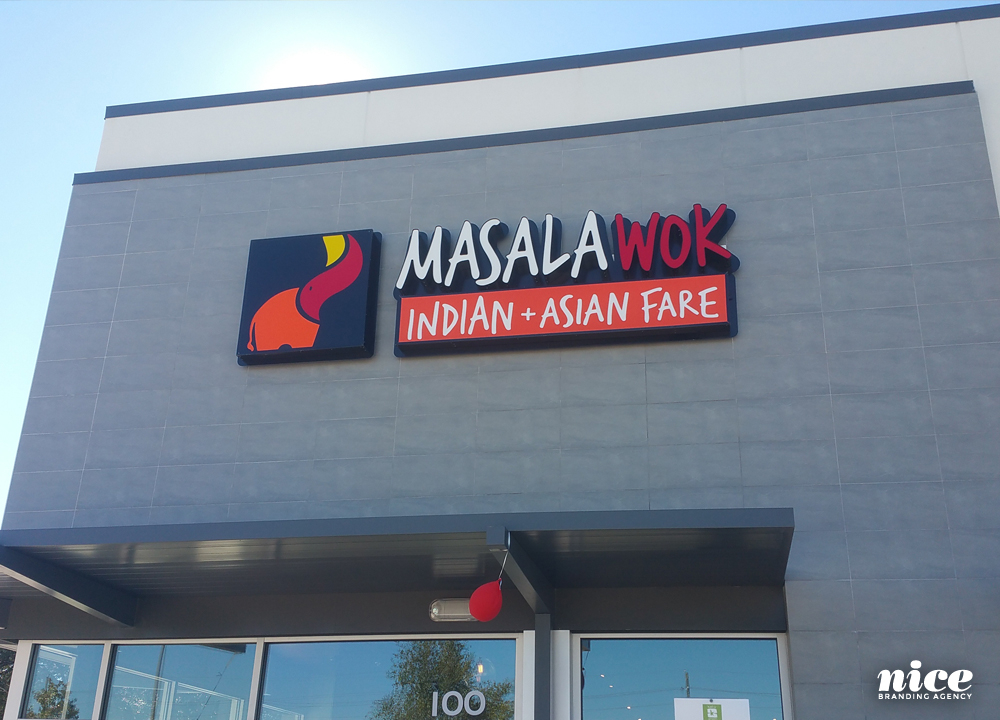 Finding Branding Success for Your Restaurant
Branding is tough, but invaluable when executed well. If you're looking for help in branding your restaurant, consider hiring a branding agency that takes a creative, hands-on approach, like Nice Branding Agency. According to Dennis:
"A brand for your restaurant is far more than just a logo or a menu design; it's all encompassing. Everything we do is super unique and very carefully crafted. Restaurants is ultimately our passion and our most creative outlet. We get super excited when the phone rings and it's a restaurant on the other end. The messier the better!"
Is your restaurant struggling to bring in new ideas and new people? A creative branding strategy may be exactly what you need to create a buzz about your restaurant.
Read More
---