Narrow Your Search
Formal, Casual and Bistro Menus and Wine Lists
Aluminum Accent Bistro Covers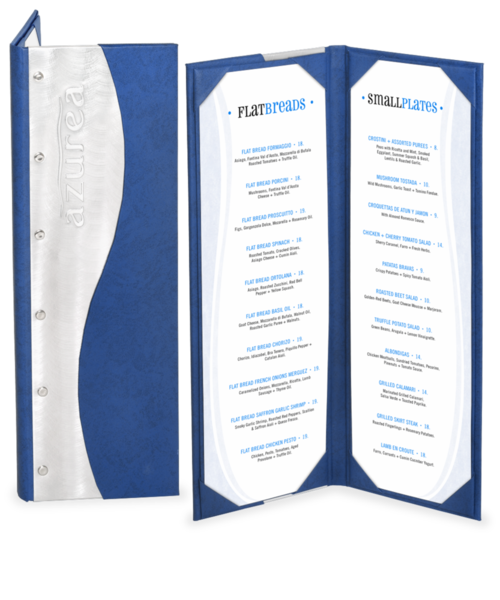 Our Metal Bistro Menu Covers feature a quality, leatherette or Summit Linen casebound menu cover construction, with an added aluminum accent on front cover.
These are the perfect drink and specials menu cover for a more upscale bar or bistro environment. We offer these menu covers in a 2 view and 4 view configuration in a few popular bar and bistro sizes.
Copper and Brass -- as well as other sizes -- are available. Please call for pricing.
Your logo can be embossed into the metal for a $215 flat charge.
VALUE BOX SCORE:
Durability: Tough, real metal and our finest faux leather spine and back covers. If treated well, these covers have an average life of 3-5 years.
Cleaning: Wipe with damp microfiber cloth - metal is subject to scratching if rubbed roughly or with a coarse cloth. Use water only for daily care. A mild (e.g. Dawn) dish detergent can be used for stuck-on food particles -- add 1 drop of per 6 oz. clean tap water. Make sure to gently wipe off all remaining soap film when you are done.
What Makes These Special: Shiny and memorable. Your guests will love them.
Colors: Real metal in 4 stylish finishes.
Price range: Deluxe.
These menu covers are non-stock items and take 15-20 business days to manufacture once your art is proofed and approved (please understand that this varies - sometimes more/sometimes less - based on our volume of orders). Art proofs usually take 3-4 days. How to send art.
Please read our return policy before ordering.