5 Restaurant Blogs That Will Help You Make More Money In 2016
Posted on

Tue, Feb 09 2016 9:19 am

by MenuShoppe.com

The restaurant industry is highly competitive. If you are going to survive, you have to stay one step ahead of your competitors. Savvy restaurant managers and owners know that the key to staying ahead is staying informed. Thereís no better way to stay on top of restaurant business trends in 2016 than by following the top restaurant blogs on the web.
Reading up on business strategies and tactics can help you find out whatís working and whatís not in the restaurant industry. By staying on the cutting edge, you will drive sales and profits and beat out your competitors. If you want to increase your revenue in 2016 and beyond, start reading the best restaurant blogs in the business.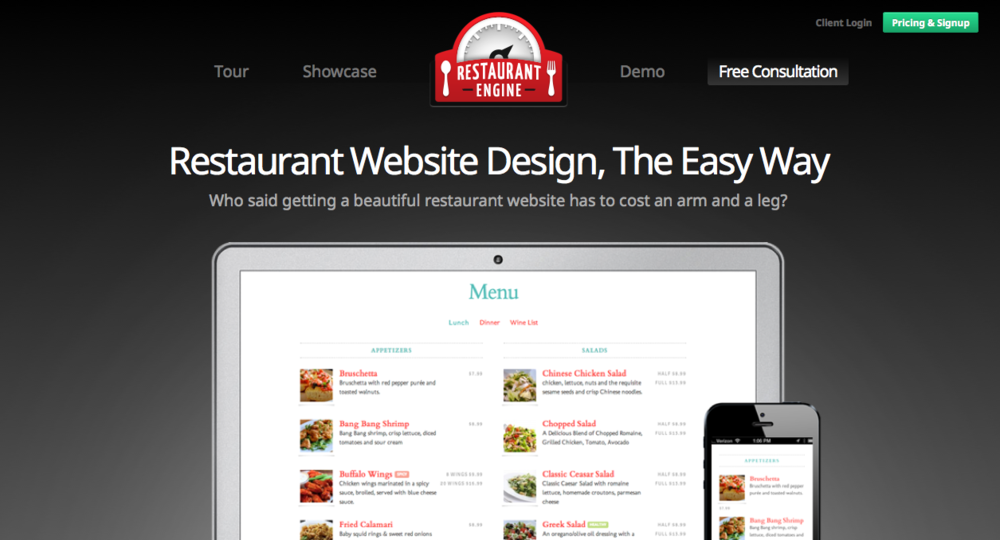 Restaurant Engine
Restaurant Engine is a great blog for tips about marketing your restaurant online. Whether you are interested in attracting mobile phone users or winning on social media, this site provides helpful, tactical advice on digital marketing for restaurants. They also provide a wealth of information about the restaurant business in general, including all types of establishments from coffee shops and food trucks to pizzerias and sushi bars.
Recently on Restaurant Engine, there were three posts related to email marketing and how to produce successful email marketing campaigns. Another post focused on how to improve your restaurant by listening to your customers, as well as how to conduct surveys and get feedback. Other posts feature social media strategies for restaurants and food trucks.
The Restaurant Engine is website service for restaurants, so each blog post is accompanied by a call to action to check out their service. However, their blog provides useful information to help your grow your business whether or not you use their design services.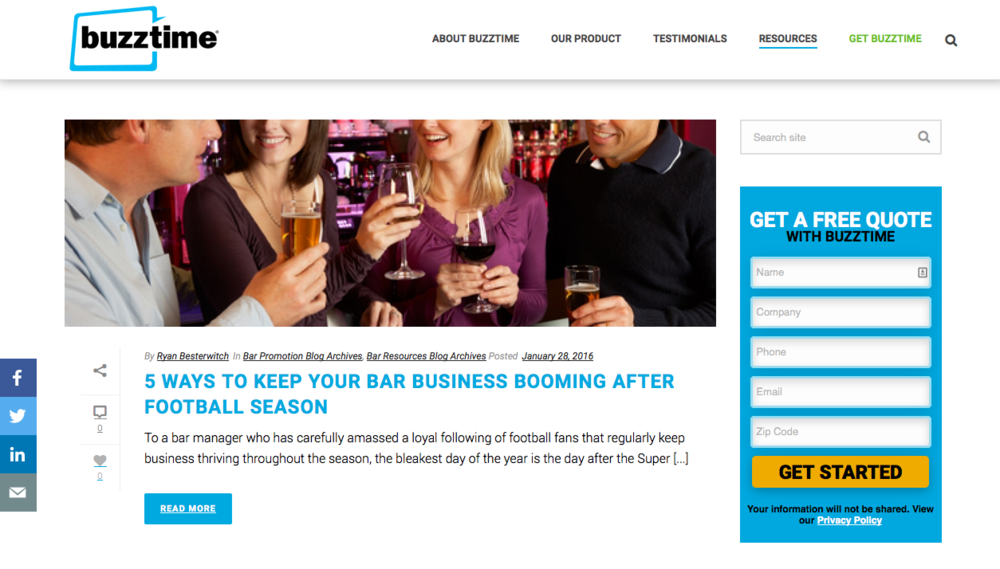 Buzztime
Buzztime is a company that produces digital entertainment products (poker, trivia, sports, etc.) for restaurants that engage customers and increase sales. As such, much of their blog content is created to help bars attract customers and build community, but the advice can apply to other restaurants as well. There is also information about restaurant management and marketing.
The Buzztime blog presents a wide variety of content that covers everything from restaurant operations to social media marketing. The main focus seems to be on building a community around your restaurant or bar that creates the feeling of family for your patrons. Learning how to fostering this level of engagement with customers is a must for any restaurant owner or manager.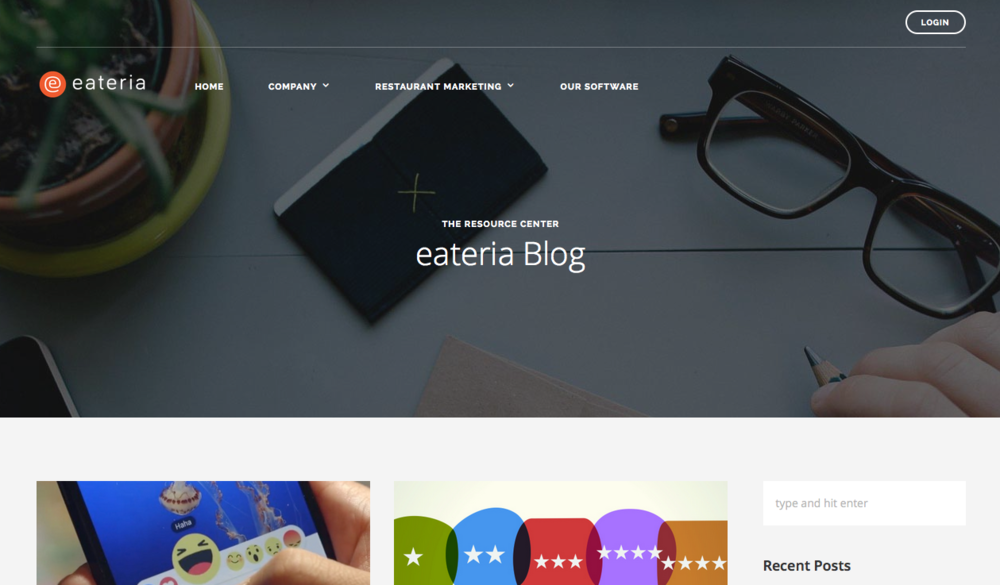 Eateria
Eateria is a digital marketing tool for restaurants. They focus on building loyalty through online channels. Their blog is not only a great resource for all things digital, but also provides information on general restaurant business strategies. Many of their articles are in-depth cases studies that explore how to handle issues like angry customers, online reputation, and web marketing using real-life examples.
For example, how should you handle a negative online review that goes viral? In a recent post, they dissect a case where this happened and show what the owner did wrong as well as what the best response would have been. Articles like these can help restaurant owners and managers who are facing the same real-life situation.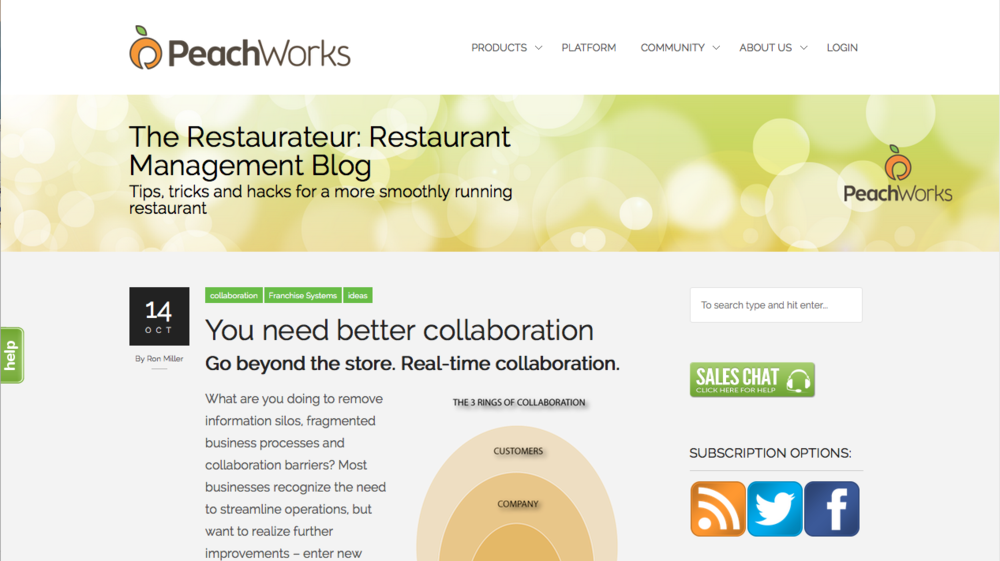 PeachWorks
PeachWorks is specifically directed at restauranteurs. It focuses on advanced concepts in restaurant management. It covers issues like inventory management, employee scheduling, and technology. It also features high-tech innovation in restaurants like Eatsa in San Francisco, where patrons can self-order using tablets and pick up their orders in labeled cubbies.
PeachWorks is restaurant management platform, so some of the posts are a bit self-promotional and tend to steer readers towards purchasing. However, much of the content is innovative thinking on restaurant management, so itís worth a read.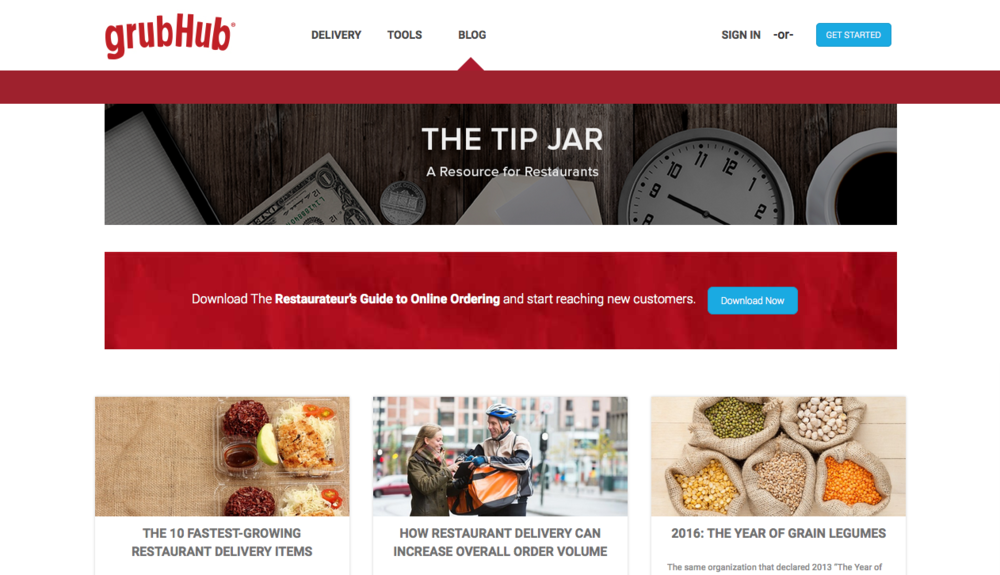 GrubHub
GrubHub is a popular online ordering service for restaurants, but they also have a great blog with tons of tips on running a successful restaurant. There are articles about menu trends, customer experience, and marketing strategies. As a delivery service, it should come as no surprise that there are several articles about running a successful delivery service. But thatís not all. Restaurant operations, openings, and management are all covered too. Following the GrubHub blog is a great way to keep tabs on restaurant business trends, especially as they related to technology and innovation.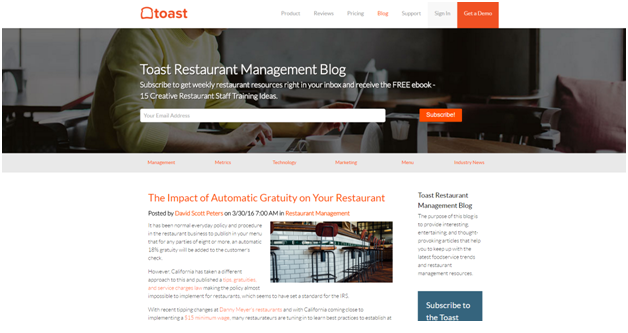 BONUS: Toast
Toast is a powerful all-in-one point of sale and restaurant management software, but we couldnít resist adding it to this list because of its great restaurant management blog. On the Toast blog youíll find engaging and intriguing articles about everything from productivity, to marketing, menu engineering, and even legally playing music in your restaurant. Did you know that you canít play copyrighted music in your restaurant even if you pay for a subscription like Pandora or Spotify unless you also pay licensing fees? If you are caught playing unlicensed music in your restaurant you could face a penalty of up to $30,000. For more tips like this, consider subscribing to Toast.
Follow Top Restaurant Blogs For A Prosperous Year
Following the top restaurant blogs on the web will give you continuous insight on on what works in restaurant marketing and management. By using these tips, your restaurant can get more customers, more order volume, and more money in 2016 and beyond.
Read More
---