7 Restaurants Doing Dining Differently
Posted on

Mon, Aug 24 2015 1:16 pm

by MenuShoppe.com

Fast food restaurants attract hungry families by using toys, playgrounds, and kid-friendly mascots. Sit-down chains do the same with menus that double as coloring books. Gourmet restaurants, meanwhile, appeal to sophisticated couples with white-glove service, soft lighting, and relaxing live music.

Going out to eat is about more than just a meal. It's about an experience. Smart restaurant owners pay close attention to décor and marketing choices in order to attract a specific demographic. However, a few unique restaurants go above and beyond to offer one-of-a-kind dining experiences. From robotic jungle creatures to actors on actual horses, their ambitious and creative concepts are full of unique details that you won't find anywhere else.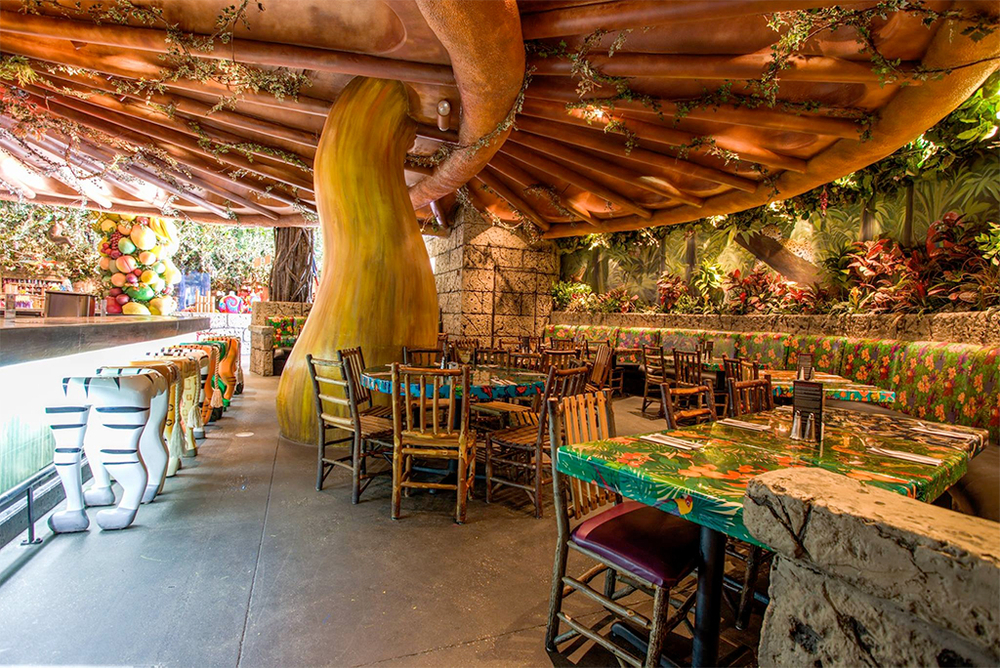 Rainforest Cafe
Rainforest Café is one of the best examples of a fully integrated theme. Each location is an entire artificial forest, complete with periodic storms over diners' heads, waterfalls running down the walls, and animatronic animals moving and speaking from within the vines and trees that cover every surface. The sprawling gift shop capitalizes on the family-friendly theme with toys that match the décor, including plush versions of the café's tree frog mascot. "Cha! Cha!" is one of eight different characters that make up the restaurant's "Wild Bunch", a creative combination of mammals and reptiles that kids can spot within the dining areas.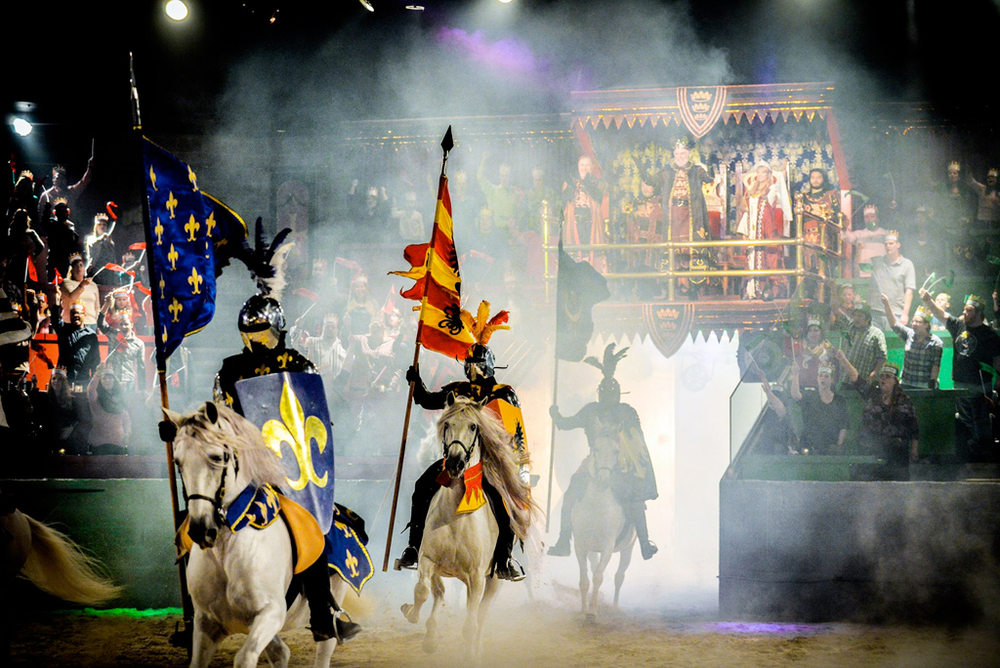 Medieval Times
A variety of restaurants treat diners to live performances as they eat, but Medieval Times has more in common with a theme park than a dinner theater. Inside a giant replica of an 11th century castle, guests enjoy live shows as they chow down on four-course meals inspired by medieval feasts.
Costumed actors populate a fictional kingdom including a group of six armored knights, weaving a captivating story of love and war into the falconry, horsemanship, jousting battles, and other impressive live stunts. Each knight has a fan following on social media, and guests can even add their favorite knight's unique "Twibbon" to their own profile pictures.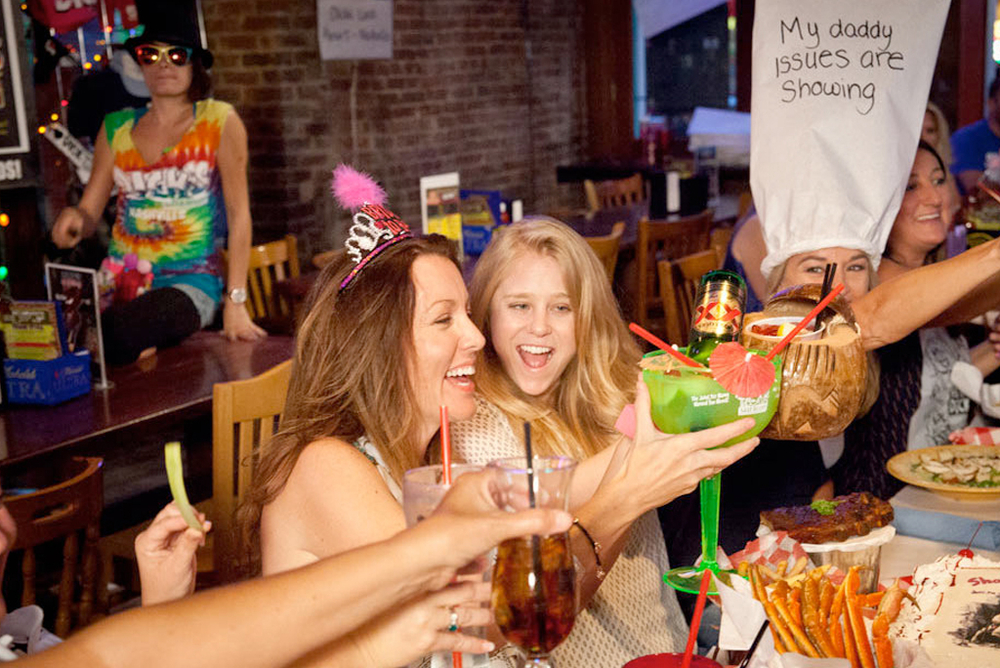 Dick's Last Resort
Most restaurants expect their servers to uphold the old adage that "the customer's always right." Dick's Last Resort definitely isn't one of them. This bar and restaurant chain isn't afraid to make customers uncomfortable, and its décor doesn't shy away from tacky. Though it has a Southern-inspired menu, sarcastic servers offer the opposite of Southern hospitality, pairing fresh seafood with "heaping helps of sarcasm". Huge drinks and photo ops galore turn the good-natured fun into a giant party.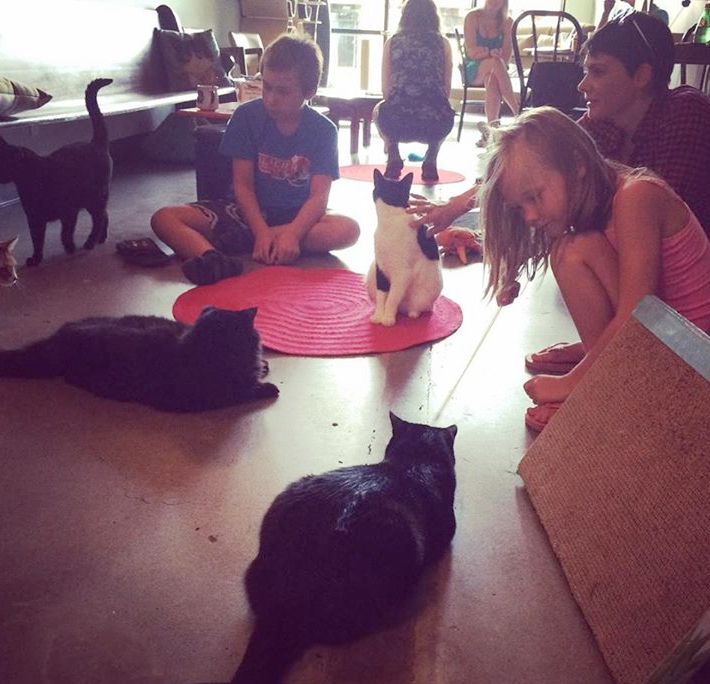 Purrington's Cat Lounge
Cat cafés first made a splash in crowded Asian cities, allowing guests to escape impersonal or solitary jobs with an adorable dose of animal companionship. Now, the phenomenon is spreading stateside, and Purrington's Cat Lounge is Portland's first version of the tradition. They serve food and drinks in a separate side, but guests can bring their food into the cat lounge to dine alongside eight to ten adoptable, free-roaming felines.
Lifted spirits aren't the only positive results of Purrington's success. So far, more than 50 cats have found permanent homes thanks to the excellent visibility and intimate, interactive appeal of this quirky café. To keep the cats happy and give everyone plenty of one-on one time, Purrington's only allows fifteen guests to book "cat time" each hour.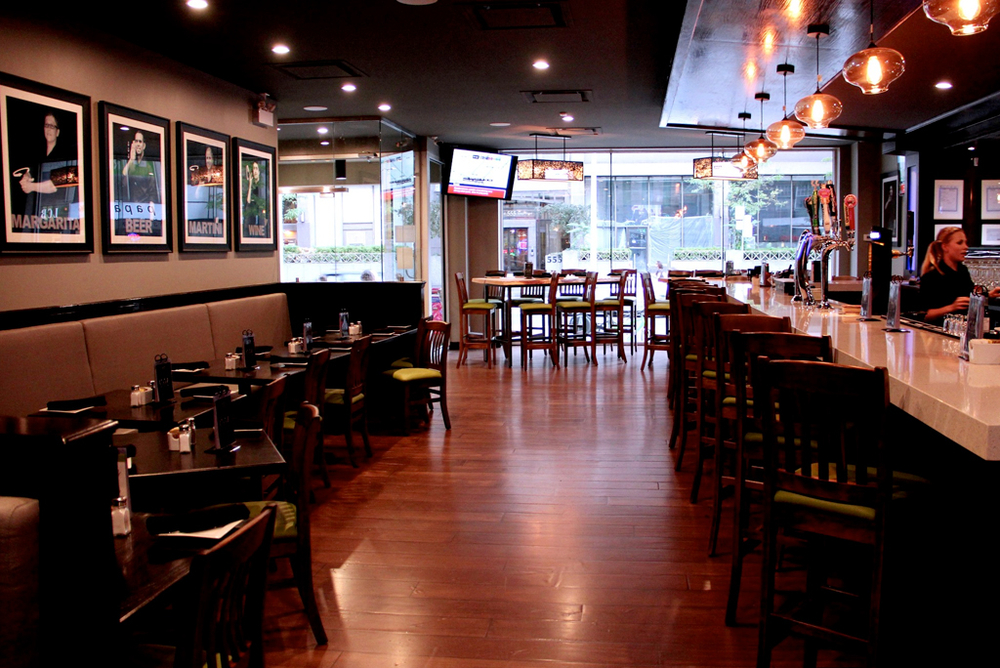 SIGNS Restaurant and Bar
Some restaurants ask their servers to double as performers, but SIGNS doesn't need an artificial premise or promise of entertainment to turn staff into the main attraction. This Canadian restaurant is an upscale but casual establishment that supports the Deaf community while educating guests. Every server at SIGNS is Deaf, and if customers don't know American Sign Language, they can rely on helpful instructions from their menus and reference an extensive "cheat book" to further enrich their vocabulary.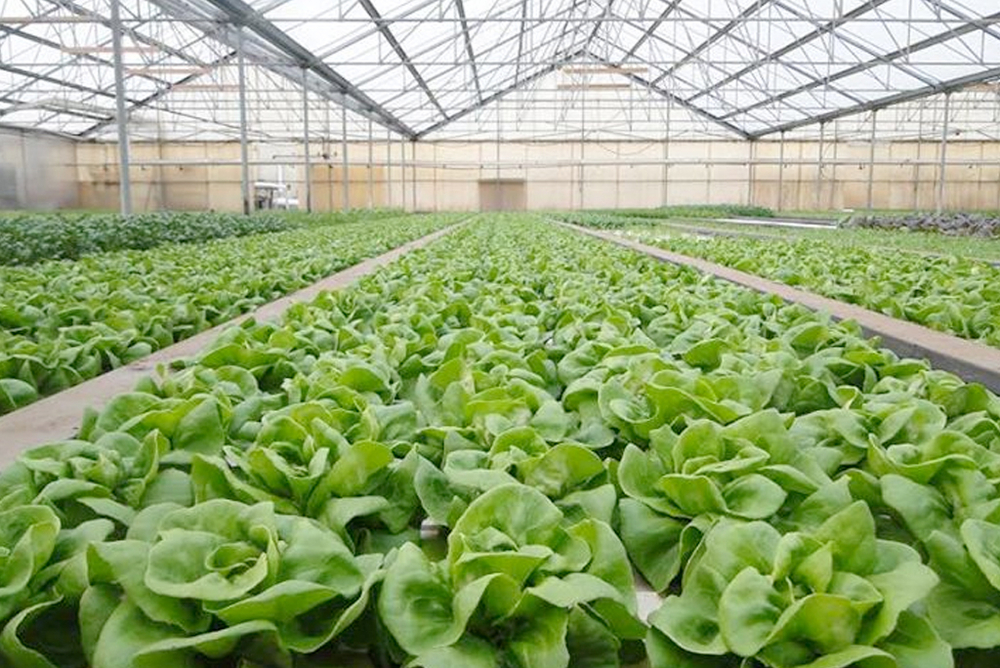 The Perrenial
Locally sourced ingredients, LEED-certified buildings, and other sustainable elements are increasingly important to modern diners. Farm-to-table fare is also associated with freshness and superior flavor, so it's no surprise that one of the year's most promising new restaurants serves "agrarian" food, but The Perennial completely raises the bar for other eco-friendly establishments. Rather than lowering its carbon footprint with energy-efficient choices, this San Francisco restaurant promises to completely eliminate it.
This ambitious feat is possible because The Perennial focuses foremost on the way its ingredients are grown or raised. It relies on fresh food from its own aquaponics greenhouse in Oakland, where white sturgeon feed on the restaurant's scraps and fertilize organic vegetables for future dishes, completing a zero-carbon "closed loop" of agriculture. Chefs also use a planet-friendly wheatgrass instead of wheat and beef from a ranch that upholds an innovative, low-carbon farming protocol.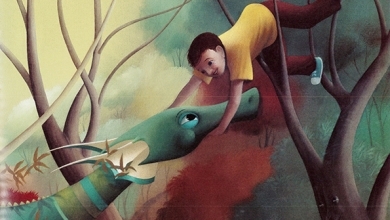 Puff (Coming Soon)
Steve Schussler, the creative restaurateur who created Rainforest Café, now has his eyes on another theme. Next year, he plans to open Puff, a restaurant inspired by a children's song about a fairy tale character. Puff, which will open in 2016 in Orlando, Florida, is based on "Puff the Magic Dragon" by Peter, Paul and Mary. As the first of several planned locations, Puff will attract nostalgic music lovers and fantasy fans alike by integrating dragon-themed details into its menu, architecture, décor, merchandise, and more.
Do Dining Differently
These restaurants don't sacrifice taste or service for the sake of a gimmick. Instead, they integrate creative themes into their menu, décor, and service methods that turn them into bona fide tourist destinations. Though they have locations in major cities full of attractions and events, they also attract locals by shirking the status quo with unique concepts that practically market themselves.
Read More
---