8 Menu Types You Should Know About
Posted on

Thu, Oct 01 2015 9:43 am

by MenuShoppe.com

Just like the cuisine you serve and the ambiance you create, your menu reflects the quality of your restaurant and influences the choices your customers make. Menus should always be easy to read, clean, and up-to-date. However, the overall format of your menu depends on a variety of factors.
All modern restaurant menus fall into eight different categories. By learning the distinctions between them, you can select the best menu or menus for your restaurant. Restaurants that are strategic about their menu formats can bring in more revenue and delight more customers with clear and navigable selections.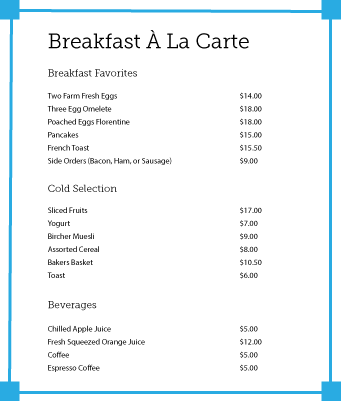 À La Carte
In French, à la carte literally means "by the menu". In the restaurant industry, à la carte is an upscale term used in reference to menus that list items priced and ordered seperately. If you want to give your guests plenty of flexibility, list your options individually on an à la carte menu. They will pay for each individual side they select, and entrées such as steak or baked eggplant will stand alone.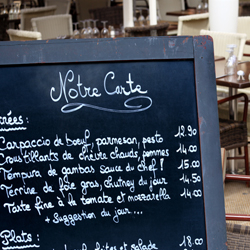 Du Jour Menu
Du jour means "of the day", and the term isn't limited to soups or cocktails. Du jour menus offer flexibility for small and busy restaurants because they can be customized every day or even throughout the day. These menus, which are commonly written on chalkboards or displayed on digital displays, may include anything from a single special item to a list of that day's entrée choices. They are usually presented in conjunction with a standard, static menu.

Cycle Menu
If you rotate your menu items according to day of the week, seasonal availability, or chef's choice, you need a practical way to display your simple but ever-changing selections. Du jour menus must be changed daily, but cycle menus feature a complete list of current and upcoming menu items. Cafeterias often use weekly or monthly cycle menus, because they cook different items on the same equipment. Additionally, cruise ships, resort hotels, and hospitals may utilize cycle menus as well.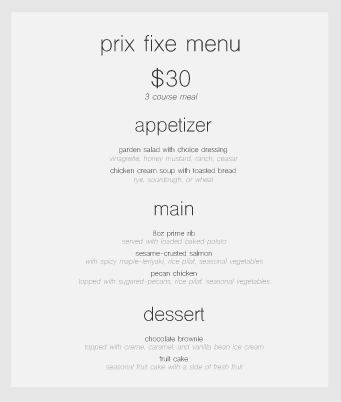 Prix Fixe Menu
French for "fixed price", prix fixe describes a menu that quite literally has a fixed price. There may be multiple options for each course, but ultimately, every guest will receive the same number of courses – usually an appetizer, salad or soup, entrée, and dessert – and pay the same standard price no matter which individual selections they choose. Prix Fixe menus could also be referred to as Special Occasion menus, as they are commonly used only for special occasions such as Thanksgiving, Christmas, or Easter.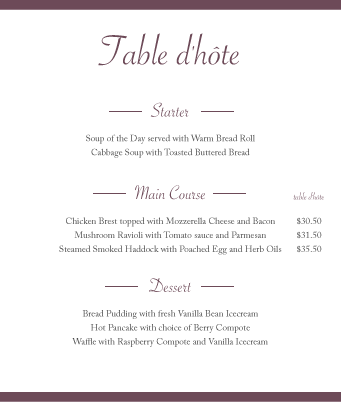 Table d'hôte
Yet another French culinary term, table d'hôte means "the host's table" and describes a menu similar to a prix fixe menu, but with a more upscale turn of phrase. The term first referred to meals shared among house guests and their hosts, who gathered at a single table to enjoy the same courses. However, unlike the prix fixe menu, the prices of individual entree items may vary. A table d'hôte menu is also excellent choice for holiday meals and cuisine that encourages sharing, such as Easter brunch or Spanish tapas.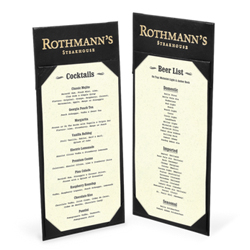 Beverage Menu
If you offer multiple beer, wine, cocktail, or even juice and soda options, you may want to separate them onto a distinct beverage menu. Guests who start with water may order drinks later if they have a beverage menu to peruse as they eat. Some beverage menus feature pictures of specialty cocktails, extensive lists of craft beer selections, or information about the ingredients and traditions that inspired each beverage.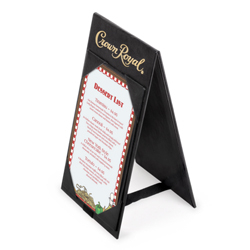 Dessert Menu
Many standard menus have dessert sections but because servers collect menus after the entrées are ordered, guests can't refer to these sections later. That's why some restaurants offer separate dessert menus, which may be displayed right on the tables or handed out after all guests are finished eating. Upscale restaurants may even roll out a dessert cart that features each item on the menu, which makes it harder to resist sweet treats even if everyone's full.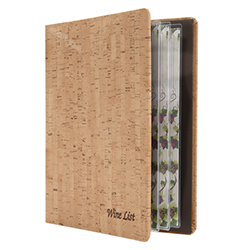 Wine Captain's Books
Most sit-down restaurants have a separate beverage menu, but very upscale restaurants often have particularly extensive wine cellars, and discerning patrons want to select the perfect variety to complement their meal. Servers may offer pairing suggestions, but the wine captain's book should include the years and winemakers of each available bottle.
Choose The Best Menu Format For Your Restaurant
One menu doesn't fit all restaurants. Whether you serve four gourmet courses or an assortment of fast-food staples, your menu should make each option clear and appealing. Which of the ten restaurant menu formats is right for you?
Read More
---