Wood Clipboard Check Presenters
SKU: WCLP
| Paper Size | 25 - 49 | 50 - 99 | 100+ |
| --- | --- | --- | --- |
| 3 in x 7 in. without logo | $12.05 | $11.45 | $11.00 |
| 4 1/4 in. x 11 in. wiithout logo | $15.30 | $14.45 | $13.90 |
| 3 in x 7 in. WITH LOGO | $20.00 | $17.30 | $15.60 |
| 4 1/4 in. x 11 in. WITH LOGO | $23.65 | $20.30 | $18.15 |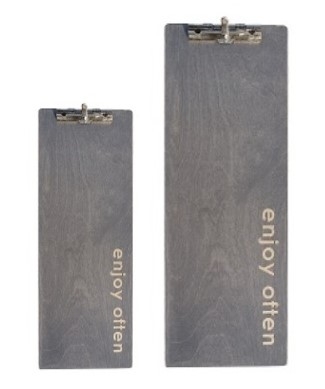 Sturdy wire clips hold your guest check and a pen securely in place.
Choose from 26 stained or lacquered finishes and your choice of 13 clips.
Your logo up to 3" x 2" (laser engraved, blackened or 4-color) can be added on the front or back.
WE WILL PROVIDE A PROOF FOR REVIEW BEFORE PRODUCTION
These are custom made. Please allow 4 weeks for production.
Minimum 25.
Note that sizes are for the maximum paper size recommended for the board. The actual board size is slightly bigger.
THESE CLIPBOARDS ARE AVAILABLE IN MANY SIZES WITH MANY ADDITIONAL CLIP STYLES HERE.
| Paper Size | 25 - 49 | 50 - 99 | 100+ |
| --- | --- | --- | --- |
| 3 in x 7 in. without logo | $12.05 | $11.45 | $11.00 |
| 4 1/4 in. x 11 in. wiithout logo | $15.30 | $14.45 | $13.90 |
| 3 in x 7 in. WITH LOGO | $20.00 | $17.30 | $15.60 |
| 4 1/4 in. x 11 in. WITH LOGO | $23.65 | $20.30 | $18.15 |
---
---