Wood Band Boards
SKU: WBND
| Menu Sheet Size | 25 - 49 | 50 - 99 | 100+ |
| --- | --- | --- | --- |
| 5 1/2 in. x 8 1/2 in. | $15.85 | $15.00 | $14.55 |
| 4 1/4 in. x 11 in. | $18.40 | $17.43 | $16.82 |
| 8 1/2 in, x 11 in. | $24.20 | $22.85 | $22.00 |
| 8 1/2 in, x 14 in. | $26.35 | $24.85 | $23.95 |
| 5 1/2 in. x 11 in. | $19.25 | $17.45 | $15.95 |
| 5 1/2 in. x 14 in. | $21.40 | $20.30 | $19.55 |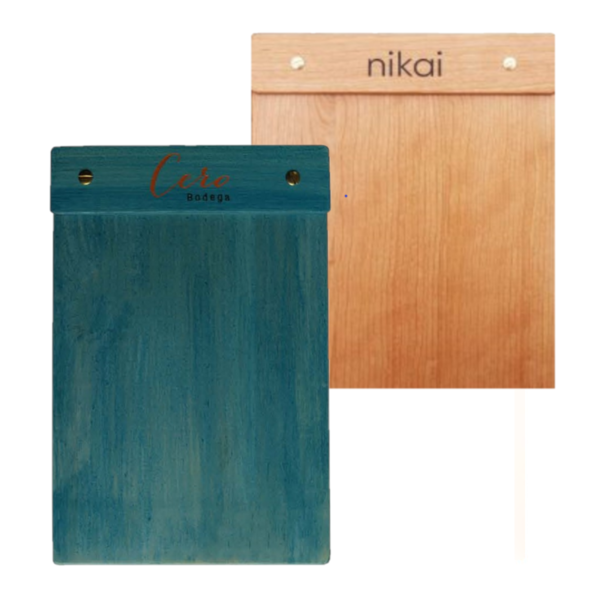 Your pages are held securely in place between the top wooden band and the bottom wood board using Chicago screws and posts.
Choose from 26 stained or lacquered finishes and your choice of colored rubber bands.
Your logo (laser engraved, blackened or 4-color) can be added for a $125 one-time programming fee and a per-item cost that depends on the size and location of your logo. Logo designs on wood are a digital process which requires programming. ($75 extra per order for blackening)
These are custom made. Please allow 4 weeks for production.
Minimum order 25.
SIZES REPRESENT THE SIZE MENU SHEETS YOU WILL USE WITH THE BOARD. ACTUAL BOARD SIZE LARGER
Note: Laser decorated logos are priced by size and location
Logo on Wooden BAND (as pictured)
Up to 1.25 in. x 4.75 in. - $3.35 per board
Logo on BACK SIDE of Board
3 in. x 2 in. - $3.35 per board
4 in. x 3 in. - $6.35 per board
5 in. x 3 in. - $8.35 per board
.
| Menu Sheet Size | 25 - 49 | 50 - 99 | 100+ |
| --- | --- | --- | --- |
| 5 1/2 in. x 8 1/2 in. | $15.85 | $15.00 | $14.55 |
| 4 1/4 in. x 11 in. | $18.40 | $17.43 | $16.82 |
| 8 1/2 in, x 11 in. | $24.20 | $22.85 | $22.00 |
| 8 1/2 in, x 14 in. | $26.35 | $24.85 | $23.95 |
| 5 1/2 in. x 11 in. | $19.25 | $17.45 | $15.95 |
| 5 1/2 in. x 14 in. | $21.40 | $20.30 | $19.55 |
---
---