Rubber Band Boards
SKU: WRBB
| Menu Sheet Size | 25 - 49 | 50 - 99 | 100+ |
| --- | --- | --- | --- |
| 5 1/2 in. x 8 1/2 in. | $13.50 | $12.60 | $11.95 |
| 4 1/4 in. x 11 in. | $13.60 | $12.70 | $12.10 |
| 8 1/2 in, x 11 in. | $19.35 | $18.40 | $17.80 |
| 4 1/4 in, x 14 in. | $16.45 | $15.50 | $14.90 |
| 8 1/2 in, x 14 in. | $20.15 | $19.35 | $18.85 |
| 5 1/2 in. x 11 in. | $16.45 | $15.50 | $14.90 |
| 5 1/2 in. x 14 in. | $16.80 | $15.90 | $15.30 |
| 11 in. x 17 in. | $31.25 | $30.60 | $30.15 |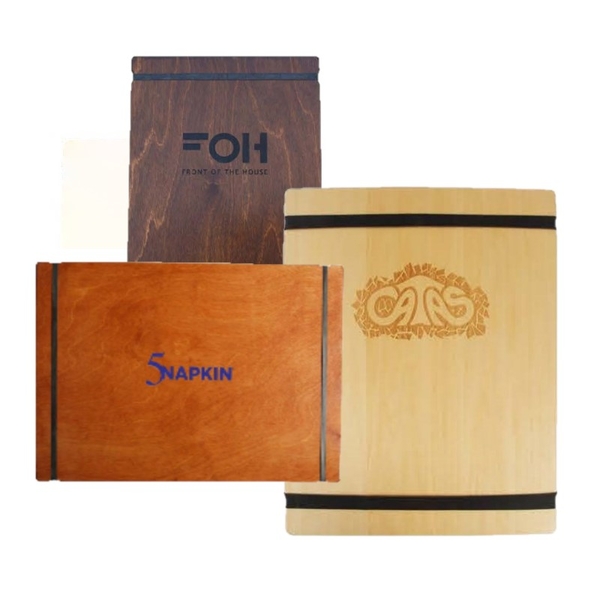 Rubber bands hold your pages securely in place.
Choose from 26 stained or lacquered finishes and your choice of colored rubber bands.
ADD YOUR LOGO! Add your laser engraved logo, your logo with blackening, or a 4-color digital process printing for a one-time set-up/programming fee and a per-cover charge based on the size of the logo.
Minimum order 25.
SIZES REPRESENT THE SIZE MENU SHEETS YOU WILL USE WITH THE BOARD. ACTUAL BOARD SIZE LARGER
Note: Laser decorated logos are priced by size.
3 in. x 2 in. - $3.35 per board
4 in. x 3 in. - $6.35 per board
5 in. x 3 in. - $8.35 per board
These items are made to order and are not returnable.
A proof (showing dimensions and the location and appearance of your artwork) will be sent for customer approval approximately 5-7 business days after art submission. Once art is approved by you, allow 22-26 business days for production.
Note that production times may vary and are estimates, not guarantees. For more information and to send us your art, Click HERE.
| Menu Sheet Size | 25 - 49 | 50 - 99 | 100+ |
| --- | --- | --- | --- |
| 5 1/2 in. x 8 1/2 in. | $13.50 | $12.60 | $11.95 |
| 4 1/4 in. x 11 in. | $13.60 | $12.70 | $12.10 |
| 8 1/2 in, x 11 in. | $19.35 | $18.40 | $17.80 |
| 4 1/4 in, x 14 in. | $16.45 | $15.50 | $14.90 |
| 8 1/2 in, x 14 in. | $20.15 | $19.35 | $18.85 |
| 5 1/2 in. x 11 in. | $16.45 | $15.50 | $14.90 |
| 5 1/2 in. x 14 in. | $16.80 | $15.90 | $15.30 |
| 11 in. x 17 in. | $31.25 | $30.60 | $30.15 |
---
---