Rubber Band Boards
SKU: WRBB
| Menu Sheet Size | 25 - 49 | 50 - 99 | 100+ |
| --- | --- | --- | --- |
| 5 1/2 in. x 8 1/2 in. | $13.50 | $12.60 | $11.95 |
| 4 1/4 in. x 11 in. | $13.60 | $12.70 | $12.10 |
| 8 1/2 in, x 11 in. | $19.35 | $18.40 | $17.80 |
| 4 1/4 in, x 14 in. | $16.45 | $15.50 | $14.90 |
| 8 1/2 in, x 14 in. | $20.15 | $19.35 | $18.85 |
| 5 1/2 in. x 11 in. | $16.45 | $15.50 | $14.90 |
| 5 1/2 in. x 14 in. | $16.80 | $15.90 | $15.30 |
| 11 in. x 17 in. | $31.25 | $30.60 | $30.15 |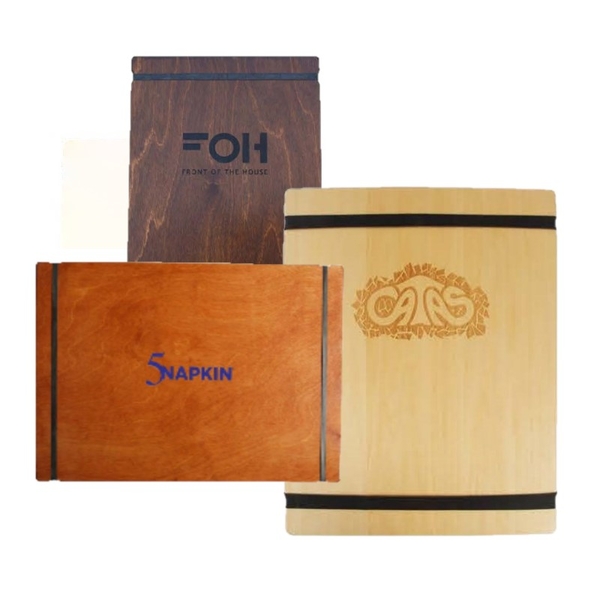 Rubber bands hold your pages securely in place.
Choose from 26 stained or lacquered finishes and your choice of colored rubber bands.
Your logo (laser engraved, blackened or 4-color) can be added for a $125 one-time programming fee and a per-item cost that depends on the size of your logo. Logo designs on wood are a digital process which requires programming. ($75 extra per order for blackening)
These are custom made. Please allow 4 weeks for production.
Minimum order 25.
SIZES REPRESENT THE SIZE MENU SHEETS YOU WILL USE WITH THE BOARD. ACTUAL BOARD SIZE LARGER
Note: Laser decorated logos are priced by size.
3 in. x 2 in. - $3.35 per board
4 in. x 3 in. - $6.35 per board
5 in. x 3 in. - $8.35 per board
.
| Menu Sheet Size | 25 - 49 | 50 - 99 | 100+ |
| --- | --- | --- | --- |
| 5 1/2 in. x 8 1/2 in. | $13.50 | $12.60 | $11.95 |
| 4 1/4 in. x 11 in. | $13.60 | $12.70 | $12.10 |
| 8 1/2 in, x 11 in. | $19.35 | $18.40 | $17.80 |
| 4 1/4 in, x 14 in. | $16.45 | $15.50 | $14.90 |
| 8 1/2 in, x 14 in. | $20.15 | $19.35 | $18.85 |
| 5 1/2 in. x 11 in. | $16.45 | $15.50 | $14.90 |
| 5 1/2 in. x 14 in. | $16.80 | $15.90 | $15.30 |
| 11 in. x 17 in. | $31.25 | $30.60 | $30.15 |
---
---