Crystal Clear Menu Booklets (6 or 8 Views)
SKU: HST600/HST800
| Insert and Views | 10 - 49 | 50 - 99 | 100+ |
| --- | --- | --- | --- |
| 8 1/2 in. x 11 in. (SIX view) | $3.25 | $3.00 | $2.75 |
| 8 1/2 in. x 14in. (SIX view) | $3.25 | $3.00 | $2.75 |
| 8 1/2 in. x 11 in. (EIGHT view) | $4.00 | $3.75 | $3.25 |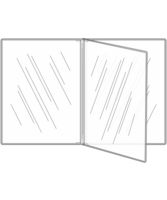 Three or Four single panels heat sealed together to form a 6-view or 8-view menu cover.
These vinyl pockets load from the center.
Sold by the piece. Minimum order 10.
(Until recently, these were sold by the dozen - please order carefully)
SIZES SHOWN ARE FOR INSERTS THAT FIT INTO MENU COVERS. ACTUAL MENU COVER SIZES ARE LARGER
Cardboard stiffeners available. Select option below.
| Insert and Views | 10 - 49 | 50 - 99 | 100+ |
| --- | --- | --- | --- |
| 8 1/2 in. x 11 in. (SIX view) | $3.25 | $3.00 | $2.75 |
| 8 1/2 in. x 14in. (SIX view) | $3.25 | $3.00 | $2.75 |
| 8 1/2 in. x 11 in. (EIGHT view) | $4.00 | $3.75 | $3.25 |
---
---