Triple Booklet Economy Close-Outs
SKU: STYLE FXXI 400
| Size | 1 - 37 | 38+ |
| --- | --- | --- |
| 5.5x8.5" - BLUE | $2.75 | $2.50 |
| 5.5x8.5" - GREEN | $2.75 | $2.50 |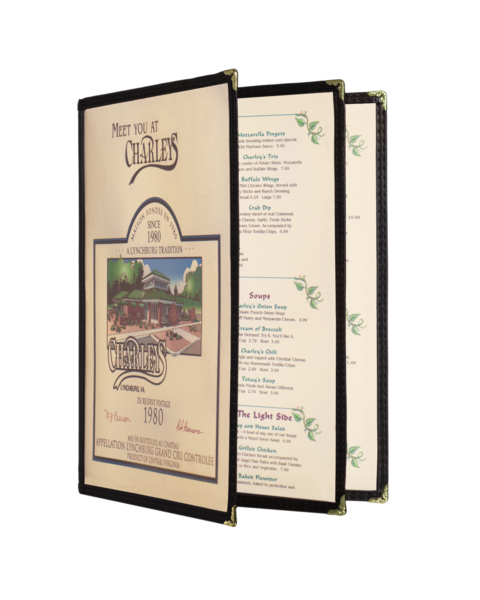 These cafe-style menu covers are made with the same construction and materials as our Deluxe cafe menu covers, just with fewer options, imported by us so we can offer them at wholesale prices.
Crystal clear vinyl panels double-row stitched to leatherette binding in BLUE and GREEN. These colors have been discontinued. Supplies are limited and prices are at least 50% off!
Gold-colored metal corner tabs with a scroll design protect the corners of the menu covers from damage. Binding is reinforced leatherette with the edges tucked under for a tight, clean, professional look.
Menu covers shown here have SIX CLEAR PANELS, (six viewing sides) stitched along the edges with your choice of colored, reinforced, imitation leather trim, finished with GOLD SCROLL metal corner tabs.
BLUE AND GREEN COLOR CLOSEOUT!
Prices are per-piece. No minimums, but total number available shown!
WHAT'S HERE IS ALL THERE IS!
5.5x8.5" - BLUE - 75 left
5.5x8.5" - GREEN - 65 left
| Size | 1 - 37 | 38+ |
| --- | --- | --- |
| 5.5x8.5" - BLUE | $2.75 | $2.50 |
| 5.5x8.5" - GREEN | $2.75 | $2.50 |
---
---
Triple Booklet (6 View) Economy Cafe Style Menu Covers. Shop online with the Menu Shoppe today.