Quad Booklet Economy Cafe Covers
SKU: STYLE FXXI 800
| Size | 12 - 24 | 25 - 49 | 50 - 99 | 100 - 249 | 250+ |
| --- | --- | --- | --- | --- | --- |
| 5 1/2 in. x 8 1/2 in. | $6.50 | $6.25 | $6.00 | $5.85 | $5.75 |
| 8 1/2 in. x 11 in. | $7.00 | $6.85 | $6.75 | $6.50 | $6.25 |
| 8 1/2 in. x 14 in. | $5.30 | $7.75 | $7.50 | $7.25 | $7.00 |
Click for Product Details
FEATURES:
Flat vinyl: Guaranteed not to curl, wrinkle or get wavy.
Stronger Thread: A double row of industrial weight thread, guaranteed not to break.
Turned Edges: Edges of binding have been folded under, creating a finished edge that dirt and grease CANNOT penetrate.
Heavyweight Corners: 3/4 in. brass plated steel corners with fishhook prongs in the back to clamp and hold tight to the binding.
All eight panels on this menu cover are made from 10 gauge, crystal clear, semi-rigid vinyl.
Prices are 'per piece.'
Use white cardboard backing sheets with menus printed on lightweight copy paper. Cardboard makes it easier to insert your menus into the menu covers and also stiffens up your menu covers.
If you do decide to add cardboard, remember that you'll need four pieces of cardboard for each cover. Prices shown are for sets of 4 pieces of cardboard. (Ex: 25 sets of cardboard will be enough for 25 menu covers.)
SIZES SHOWN ARE FOR INSERTS THAT FIT INTO MENU COVERS. ACTUAL SIZE OF MENU COVERS IS LARGER.
Menu sleeves are shown with some of our pre-printed menu paper. Paper is sold separately.
Menu sleeves shown here have FOUR DOUBLE-SIDED CLEAR PANELS, (eight viewing sides) stitched along the edges with your choice of BLACK or BURGUNDY reinforced, leatherette trim, finished with GOLD SCROLL metal corner tabs.
Prices are 'per piece'.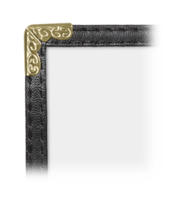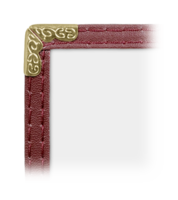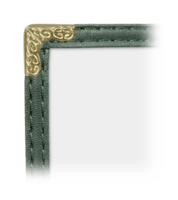 ---
---
Eight View Economy Cafe Style Menu Covers. Shop online with the Menu Shoppe today.