Deluxe Cafe Quad Booklet w/ Extra Half Panel (10 Views) Menu Covers (Style #1355)
SKU: Style # 1355
| Size | 10 - 24 | 25 - 99 | 100 - 249 | 250+ |
| --- | --- | --- | --- | --- |
| 8 1/2 in./4 1/4 in. x 11 in. | $14.35 | $13.00 | $12.25 | $11.75 |
| 8 1/2 in./4 1/4 in. x 14 in. | $15.70 | $14.50 | $14.00 | $13.25 |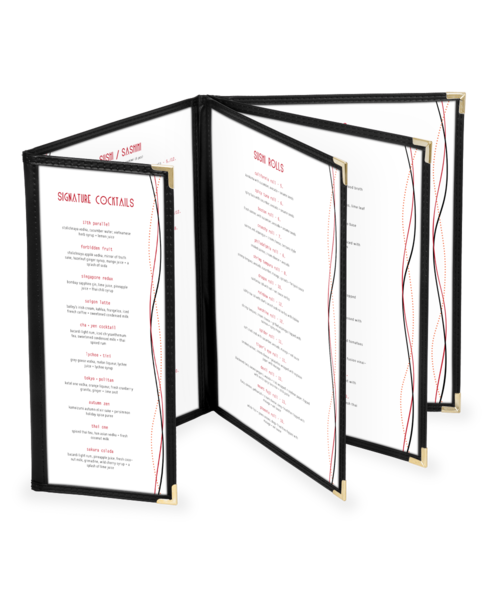 "Quad Booklet and a Half" Sewn Edge Menu Covers with ten clear panels made of 20 gauge clear or 10 gauge non-glare matte vinyl front and back (your choice) double row stitched binding along edges, finished with metal corner tabs.
Choose from either leatherette embossed vinyl binding with scrim backing or our thicker, woven fabric binding, each available in a variety of colors shown below.
Sleeves open at the inside edge.
These menu covers are made to order. Please allow at least TEN WORKING DAYS for manufacturing, plus the travel time of the method of shipment you select.
Minimum order 10. Prices shown are 'per cover'.
SIZES SHOWN ARE FOR INSERTS THAT FIT INTO MENU COVER. ACTUAL MENU COVER SIZE IS LARGER.
However, in order to fit the middle panels into the outside panels, the viewing area of the middle panels will be approximately 1/8 in. narrower than the outer panels. We recommend that you leave a 1/4 in. border, left and right, on the middle menu pages, free from live copy and pictures.
Need to add full width or half width plastic pockets to café style menu jackets you already have? Pockets are available without any binding or with colored edging to match our menu covers. Click here to learn more.
This style features four full width panels (eight viewing sides) and one 1/2 width panel (two viewing sides). The half width panel can be used as either the first or last panel by turning the booklet around.
If cardboard stiffeners ordered, each will come with 4 full panel and 1 half panel sized stiffener (order by main panel size).
| Size | 10 - 24 | 25 - 99 | 100 - 249 | 250+ |
| --- | --- | --- | --- | --- |
| 8 1/2 in./4 1/4 in. x 11 in. | $14.35 | $13.00 | $12.25 | $11.75 |
| 8 1/2 in./4 1/4 in. x 14 in. | $15.70 | $14.50 | $14.00 | $13.25 |
---
---
Quad Booklet and a Half Sewn Edge Menu Covers: four full width pockets all attached at center spine with an additional half width pcket sewn to either the first or last panel. Shop online with the Menu Shoppe today.