Crystal Clear Double Menu Holders (Four Views)
SKU: HST200
| Insert Size | 10 - 49 | 50 - 99 | 100+ |
| --- | --- | --- | --- |
| 5 1/2 in. x 8 1/2 in. | $1.75 | $1.65 | $1.60 |
| 4 1/4 in. x 11 in, | $1.75 | $1.65 | $1.60 |
| 8 1/2 in. x 11 in. | $2.25 | $2.05 | $1.95 |
| 8 1/2 in. x 14 in. | $2.50 | $2.30 | $2.20 |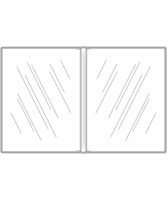 Two single panels heat sealed together to form a 4-view menu cover.
These vinyl pockets load from the center and hold four pages (two per pocket).
Sold by the piece. Minimum order 10.
(Until recently, these were sold by the dozen - please order carefully)
SIZES SHOWN ARE FOR INSERTS THAT FIT INTO MENU COVERS. ACTUAL MENU COVER SIZES ARE LARGER
Cardboard stiffeners available. Select option below.
| Insert Size | 10 - 49 | 50 - 99 | 100+ |
| --- | --- | --- | --- |
| 5 1/2 in. x 8 1/2 in. | $1.75 | $1.65 | $1.60 |
| 4 1/4 in. x 11 in, | $1.75 | $1.65 | $1.60 |
| 8 1/2 in. x 11 in. | $2.25 | $2.05 | $1.95 |
| 8 1/2 in. x 14 in. | $2.50 | $2.30 | $2.20 |
---
---