Continuous 3 1/2 Deluxe Cafe Menu Covers (Style #1335)
SKU: Style # 1335
| Size and Binding | 25 - 99 | 100 - 249 | 250+ |
| --- | --- | --- | --- |
| 8 1/2 in./4 1/4 in. x 11 in. leatherette | $8.25 | $7.25 | $6.25 |
| 8 1/2 in./4 1/4 in. x 11 in. fabric | $10.00 | $9.50 | $9.00 |
| 8 1/2 in./4 1/4 in. x 14 in. leatherette | $10.50 | $9.50 | $8.50 |
| 8 1/2 in./4 1/4 in. x 14 in. fabric | $11.50 | $11.00 | $10.50 |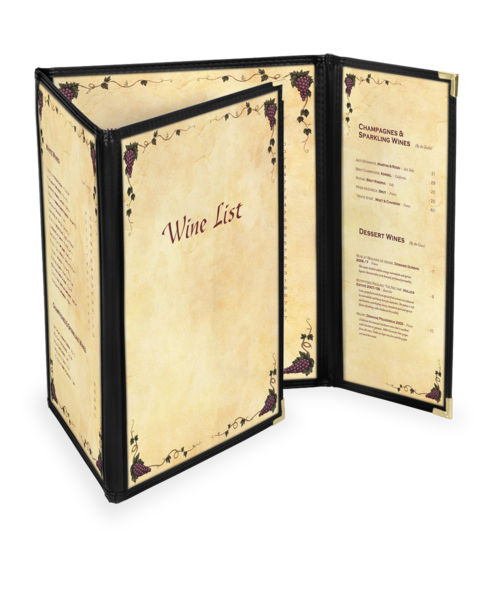 Continuous Quad Sewn Edge Menu Holders with three full width pockets with one half width pocket on either side. Eight clear panels, made of 10 gauge crystal clear vinyl or non-glare vinyl (your choice), are double row stitched to either leatherette or fabric binding. Pockets open along center seams but menu holders can be made with top openings, call for pricing.
These menu covers are made to order. Please allow SEVEN TO TEN WORKING DAYS for manufacturing, plus the travel time of the method of shipment you select.
Prices shown are 'per cover'.
This style features three full width panels (six viewing sides) and one 1/2 width panel (two viewing sides). The half width panel can be attached to either the first or last full width panel
SIZES SHOWN ARE FOR INSERTS THAT FIT INTO MENU COVER. ACTUAL MENU COVER SIZE IS LARGER.
Custom sizes available at no surcharge. Call for pricing.
| Size and Binding | 25 - 99 | 100 - 249 | 250+ |
| --- | --- | --- | --- |
| 8 1/2 in./4 1/4 in. x 11 in. leatherette | $8.25 | $7.25 | $6.25 |
| 8 1/2 in./4 1/4 in. x 11 in. fabric | $10.00 | $9.50 | $9.00 |
| 8 1/2 in./4 1/4 in. x 14 in. leatherette | $10.50 | $9.50 | $8.50 |
| 8 1/2 in./4 1/4 in. x 14 in. fabric | $11.50 | $11.00 | $10.50 |
---
---
Continuous Quad Sewn Edge Menu Covers with three full width pockets with one half width pocket on right side. Eight clear panels, made of 10 gauge crystal clear vinyl or non-glare vinyl (your choice), are double row stitched to either leatherette or fabri