Red Double 8.5x14 Summit Linen Menu Covers - CLEARANCE
SKU: Q7220D
| Size | 15 | 16+ |
| --- | --- | --- |
| 8 1/2 in. x 14 in. | $16.00 | $12.00 |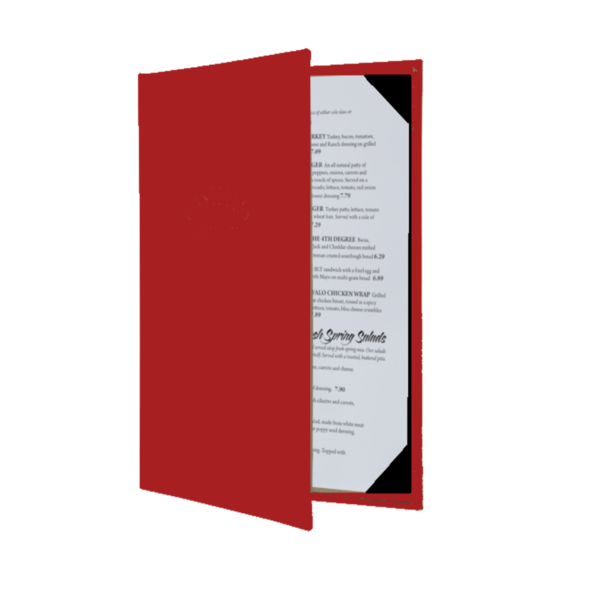 Double Summit Linen Restaurant Menu Cover - holds two menu sheets in place with four photo album style diagonal corners on each interior panel.
CLEARANCE DUE TO OVERRUN - In Stock and Ready to Ship
Double Summit Linen Menu Cover - holds two menu sheets firmly in place with four picture album-style diagonal corners.
Unpadded, Red with Plain Square Corners - 8 1/2 in. x 14 in.
Black leatherette lining and square corners.
Because these covers are ready to ship, they cannot be customized.
Clear vinyl overlay sheets are sold separately in Packs of 50. Click here to order.
SIZES SHOWN ARE FOR INSERTS THAT FIT INTO MENU HOLDERS. ACTUAL MENU HOLDER SIZES ARE LARGER.
Prices shown are cost per cover.
Minimum order 15. We have 45 in stock.
| Size | 15 | 16+ |
| --- | --- | --- |
| 8 1/2 in. x 14 in. | $16.00 | $12.00 |
---
---
A double casemade menu cover to hold a two sheet restaurant menu made with a flat coated summit linen book cloth.