Faux Ostrich Check Presenters
SKU: C78
| Size | 10 - 24 | 25 - 49 | 50 - 99 | 100+ |
| --- | --- | --- | --- | --- |
| 9x5" | $28.85 | $26.45 | $24.55 | $22.90 |
| 8x4" | $28.05 | $24.65 | $22.90 | $21.35 |
| 7x5" | $27.85 | $24.45 | $22.70 | $21.20 |
| 6x4" | $27.40 | $25.15 | $23.35 | $30.85 |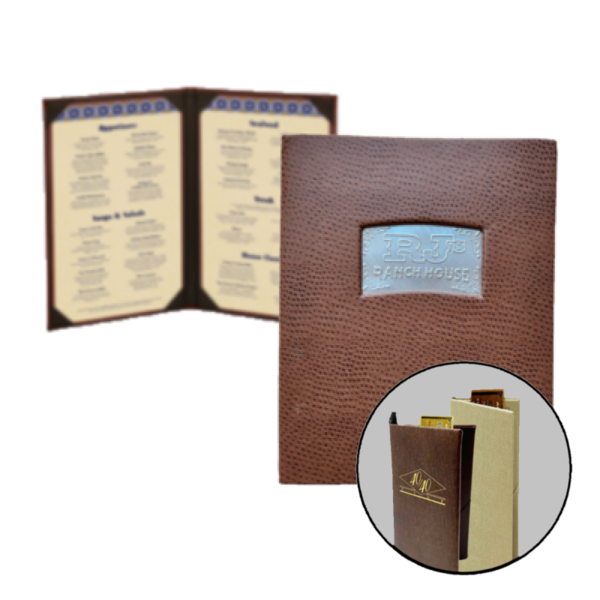 Show your appreciation to your guests by presenting their bill in this beautiful customizable cover, made with the exact same features and materials as our casebound menu covers. Create check presenters that match or compliment (such as in another color) your dinner menus and wine lists.
Covers include left and right angled inside pockets, a top loading stitched credit card pocket and an extra wide spine to accommodate a pen.
Prices include Black Leatherette lining and pockets. Other leatherette colors available for an additional charge per book.
Country clubs and restaurants that don't process credit card payments may delete the credit card pocket -- for a discount of $2.75 per book.
These covers can be customized to just about any size or pocket configuration you can think of - give us a call!
ADD YOUR LOGO! Add your personalized foil or blind debossed imprint for a flat art/set-up fee. To see available metallic and matte foil colors, Click HERE.
DIE-CUT WINDOWS AVAILABLE: Consider a die cut window (in various shapes and sizes) containing your logo or other art on a 4-color printed insert. Or have your logo debossed on faux leather within the window; laser-engraved on Baltic Birch (with or without blackening); or embossed in aluminum, copper, brass or patinaed copper. We will discuss specifics with you during art proofing. To see examples of the available options, Click HERE.
SILK SCREEN/DIGITAL PRINTING AVAILABLE: Add a colorful logo or other art to your menus! When you select this option, we will provide you with a quote for 4-color digital printing or silk screen printing, which is in addition to the art/set-up fee paid at the time of order. Depending on your art, colors, and quantity, we can choose the process that will deliver the best results at the best price. There's no obligation to proceed once you receive the quote; we can work with you on logo alternatives or cancel and refund the order (but note that all printing charges are due before the order goes into production).
Available in 4 sizes:
9x5"
8x4"
7x5"
6x4"
10 piece minimum.
These items are made to order and are not returnable.
A proof (showing dimensions and the location and appearance of your artwork) will be sent for customer approval approximately 5-7 business days after art submission. Once art is approved by you, allow 22-26 business days for production.
Note that production times may vary and are estimates, not guarantees. For more information and to send us your art, Click HERE.
| Size | 10 - 24 | 25 - 49 | 50 - 99 | 100+ |
| --- | --- | --- | --- | --- |
| 9x5" | $28.85 | $26.45 | $24.55 | $22.90 |
| 8x4" | $28.05 | $24.65 | $22.90 | $21.35 |
| 7x5" | $27.85 | $24.45 | $22.70 | $21.20 |
| 6x4" | $27.40 | $25.15 | $23.35 | $30.85 |
---
---
Show your appreciation to your guests by presenting their check in this custom check presenter just like our menu covers. Shop online with the Menu Shoppe today.