'Show Off' Roll Top Flip Stands
SKU: Style #AFS-100
| Price per Piece | 12 - 49 | 50 - 99 | 100 - 499 | 500+ |
| --- | --- | --- | --- | --- |
| Menu Show Off - Acrylic Base - Stand Only | $4.35 | $4.20 | $4.10 | $3.80 |
| Menu Show Off - Acrylic Base w/ 10 A Size Sleeves | $8.65 | $8.50 | $8.30 | $8.20 |
| Menu Show Off - Acrylic Base w/ 10 B Size Sleeves | $8.35 | $8.20 | $8.10 | $7.90 |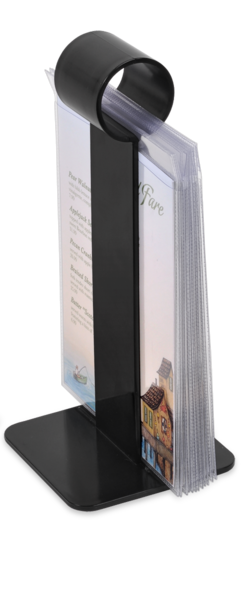 A menu holder that will help you to display your featured desserts, appetizers, beverages or anything else that will bring in $$$, right on your dining room table tops, bar or counter.
Show off menu holders are made of modified acrylic plastic that will cause the piece to bounce instead of shatter when it's knocked from your table or bar onto the floor.
Our patented,one piece drum construction makes it super-easy to add and remove pockets. Use thumb and forefinger to open slit in drum. Drop in sleeves or cards. Release drum to close and hide slit. This demonstration video shows two pockets at a time being loaded onto the drum.
We currently offer 9 in. high one-piece stands, made of specially formulated acrylic, and while we don't recommend it as a steady practice, our tests have shown that the stand will bounce and not chip or crack when dropped onto a concrete floor from table height.
These stands take our "MRP" O-ring style pockets but can also be used with laminated paper or unlaminated card stock with diecut oval slots you create yourself.*
MRP Pockets come in 3 sizes:
Size A are 4.5x6"
Size B are 4.75x6.5"
Size C are 5x7"
MRP 'O' Ring SLEEVES ARE ALSO SOLD SEPARATELY
Click here to order.
*If you are using cards without sleeves, diecut oval slot at top of card, 3/16 in. x 2 1/4 in., with edge of slot 1/4 in. from top of your card.
PRICES SHOWN BELOW ARE FOR SHOW OFF MENU HOLDERS WITH ONE PIECE ACRYLIC BASE. (WOOD STANDS TEMPORARILY UNAVAILABLE).
| Price per Piece | 12 - 49 | 50 - 99 | 100 - 499 | 500+ |
| --- | --- | --- | --- | --- |
| Menu Show Off - Acrylic Base - Stand Only | $4.35 | $4.20 | $4.10 | $3.80 |
| Menu Show Off - Acrylic Base w/ 10 A Size Sleeves | $8.65 | $8.50 | $8.30 | $8.20 |
| Menu Show Off - Acrylic Base w/ 10 B Size Sleeves | $8.35 | $8.20 | $8.10 | $7.90 |
---
---
Use these NEW and LOW PRICED plastic stands with plastic or solid wood base to display multiple products when our wooden flip stands just don't fit your decor. Shop online with the Menu Shoppe today.