Leatherette A-Frame Table Tents - CLEARANCE OVER 50% off
SKU: QB33
| Insert Size | 10 - 12 | 10 - 14 | 13 | 15 |
| --- | --- | --- | --- | --- |
| 4 in. w x 6 in. (Lot 1) | $3.75 | | $3.00 | |
| 4 in. w x 6 in. (Lot 2) | | $3.75 | | $3.00 |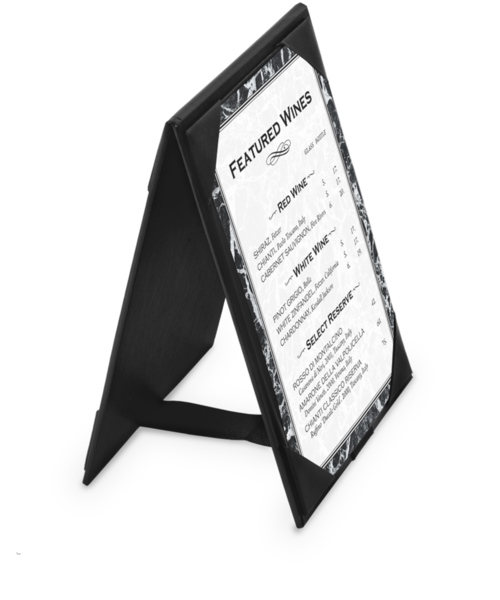 DISCOUNTED OVER 50%!
Four diagonal corners hold display cards firmly in place. Ribbon attached to bottom of each side keeps tent open and angled for easy viewing.
Table Tents are made of BLACK leatherette similar to our casebound menu covers.
Sizes shown are of inserts that fit into these table tents. Actual size of tents is slightly larger.

Prices shown are 'per piece.'

Min Quantity 10, but note you have to buy all our stock to get the lowest price.
These lots are production overruns from a previous manufacturer. They are the same quality as our current manufacturer's product but don't exactly "match" in style with the ones we now sell (and the two lots we have in size 4"x6" are also slightly different - they would certainly "work" together since you would only have one per table and no one would notice, but we're perfectionists and don't want to sell them as a single lot without that disclosure.) We are selling them for less than half our newer stock, however!

If you need quantities or sizes we don't have on clearance, check out our full range HERE.
What's available:
Q33A - 4" x 6" - 13 in stock
Q33B - 4" x 6" - 15 in stock
| Insert Size | 10 - 12 | 10 - 14 | 13 | 15 |
| --- | --- | --- | --- | --- |
| 4 in. w x 6 in. (Lot 1) | $3.75 | | $3.00 | |
| 4 in. w x 6 in. (Lot 2) | | $3.75 | | $3.00 |
---
---