Custom Shaped Bistro and Bar Menu Covers
SKU: CB3
| Price Per Menu Cover | 10 - 24 | 25 - 49 | 50 - 99 | 100+ |
| --- | --- | --- | --- | --- |
| Holds Sheets 4.25/5.5/5.5 in. wide x 11 in. high | $33.60 | $29.95 | $28.95 | $28.85 |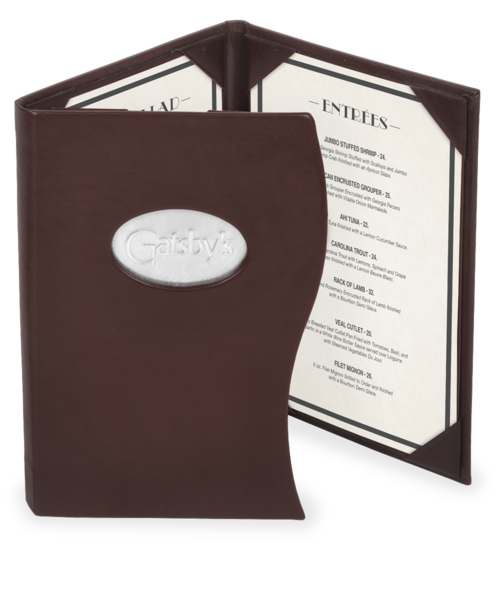 Here at The Menu Shoppe, we have designed a special menu cover perfect for small menus, such as you would find in a bar or bistro setting. We take our traditional 3 view casebound menu cover, and using our custom cutting dies, we have created a unique and eye-catching menu cover that will be hard for your guests to stop perusing.
The first panel will hold sheets 4 1/4 in. wide x 8 1/2 in. high, while the second and third panel will hold sheets 5 1/2 in. high x 8 1/2 in. wide.
Foam Padding is Optional.
ADD YOUR LOGO! Add your personalized foil or blind debossed imprint (or the words "Wine List") for a flat art/set-up fee. To see available metallic and matte foil colors, Click HERE.
DIE-CUT WINDOWS AVAILABLE: Consider a die cut window (in various shapes and sizes) containing your logo or other art on a 4-color printed insert. Or have your logo debossed on faux leather within the window; laser-engraved on Baltic Birch (with or without blackening); or embossed in aluminum, copper, brass or patinaed copper. We will discuss specifics with you during art proofing. To see examples of the available options, Click HERE.
SILK SCREEN/DIGITAL PRINTING AVAILABLE: Our leatherette and summit linen (but not metallic) work well with silk-screen printed logos. When you select this option, we will provide you with a quote for 4-color digital printing or silk screen printing, which is in addition to the art/set-up fee paid at the time of order. Depending on your art, colors, and quantity, we can choose the process that will deliver the best results at the best price. There's no obligation to proceed once you receive the quote; we can work with you on logo alternatives or cancel and refund the order (but note that all printing charges are due before the order goes into production).
VALUE BOX SCORE:
Durability: Designed for the long haul, these rugged menu covers are made from "high tear" material which means they'll last much longer than covers made from thinner, cheaper material. Average cover life 3 years.
Cleaning: Wipe with damp cloth. For stuck-on food particles, add 1 drop of mild dish washing liquid per 6 oz. clean tap water. Scrub off the residue, and make sure to wipe off all remaining soap film when you are done.
What Makes These Special: The wow-factor of this unique shape will make a lasting impression on your customer..
Colors: Over 30 leatherette, brushed metallic and summit linen colors.
Price range: Mid-Range.
These menu covers are non-stock items and take 10-15 business days to manufacture once your art is proofed and approved (please understand that this varies - sometimes more/sometimes less - based on our volume of orders). Art proofs usually take 3-4 days. How to send art.
Please read our return policy before ordering.
THIS MENU COVER HOLDS 3 SHEETS OF PAPER. DIFFERENT SIZES AND CONFIGURATIONS ARE AVAILABLE. PLEASE CALL FOR PRICING.
UPON RECEIPT OF YOUR ORDER, A CUSTOMER SERVICE REPRESENTATIVE WILL CONTACT YOU REGARDING SPECIFICS OF ORDER.
These covers are made to order and are not returnable.
A proof (showing dimensions and the location and appearance of your artwork) will be sent for customer approval approximately 5-7 business days after art submission. Once art is approved by you, allow 15-20 business days for production.
Note that production times may vary and are estimates, not guarantees. For more information and to send us your art, Click HERE.
| Price Per Menu Cover | 10 - 24 | 25 - 49 | 50 - 99 | 100+ |
| --- | --- | --- | --- | --- |
| Holds Sheets 4.25/5.5/5.5 in. wide x 11 in. high | $33.60 | $29.95 | $28.95 | $28.85 |
---
---
Here at the Menu Shoppe, we have designed a special menu cover perfect for small menus, intended to bring an upscale look at an affordable price.